There are many mobile wallets exist in India, but only a few mobile wallets are the choices of Indian citizens.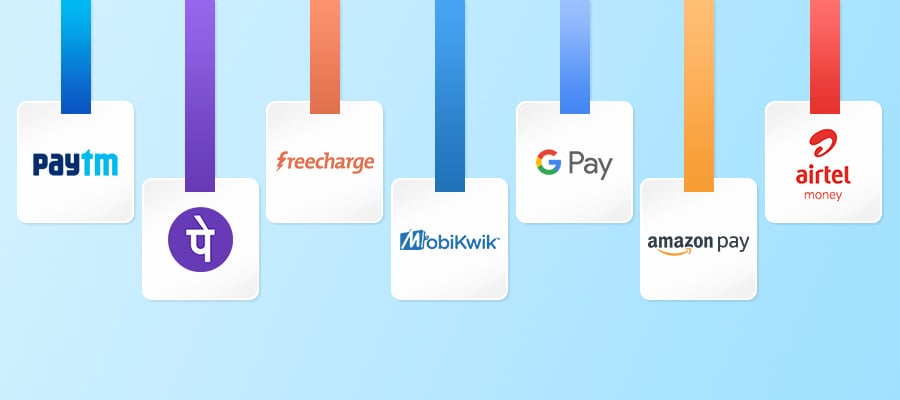 Following are the lists of best mobile wallets in India 2019:
Paytm: Paytm is a mobile wallet, founded in 2010 is the best and most popular mobile wallets in India. Paytm is used to do an online payment, online shopping, to book movie tickets, railway, and air ticket bookings. Paytm is also used to order food and to do mobile recharge. Paytm recently partnered with premium educational institutions in India to introduce cashless payments for school fees, bills, and other expenses.
PhonePe: PhonePe started in 2015, and in just four years, it has been able to cross 100 million download mark. Only like Paytm PhonePe also offers the services of online transactions, but Cashback offers provided by PhonePe is quite different from paytm.
Freecharge: Freecharge started in August 2010 in Gurugram, Haryana. But now its headquarter is in Mumbai. FreeCharge consumers can pay landline bills, utility bills or recharge mobile, DTH, broadband, etc. FreeCharge also allows its consumers to invest in mutual fund and get easy credit through FreeCharge EMI.
Mobikwik: Mobikwik is one of the fastest growing digital wallet systems. Mobikwik has witnessed around 35-40% rise in the number of online traffic since the Government of India has announced demonetization.
Google Pay: Google Pay, formerly known as Google Tez, is not a wallet. Google Pay allows its consumers to use their bank account to transfer money from one bank account to other bank accounts, to pay various kinds of bills with the help of a UPI.
Amazon Pay: Amazon is expanding its business at a significant level. Most of the Indians generally think that Amazon is only serving their clients in the field of e-commerce, but the truth is very much different because Amazon is helping their clients in various other areas also and one of the best services provided by Amazon is Amazon Pay.
Amazon Pay is a mobile wallet or a digital wallet used to do online transactions for various things like mobile recharge, DTH, electricity bill, landline bill, gas, and water bill. Amazon pay is also used to make payment for the products that you are buying from Amazon itself, and we can use Amazon pay for sending money to other users.
We have to make one thing very clear; Amazon has not launched any separate mobile app or website for amazon pay as Amazon is providing this service in the app and website which people are using for e-commerce purpose.
Airtel Money: Airtel is the popular cellular networks in India. The new Airtel money provides limited but some beneficial services to its consumers.
Just provide your KYC details, and you will get a saving account on Airtel Payments Bank, which will give you a virtual debit card for online shopping. Airtel money also provides some other features including mobile recharge, bill payments, and transferring money using BHIM UPI.
The app further provides offers from online travels, entertainment, and food merchants. You can get all these offers and services from Airtel money, all you need is just an Airtel Sim Card.
Mobile Wallets Market in India
The market of Mobile Wallet in India is going higher and higher day by day since the demonetization. All these facts discussed above gives us a conclusion that the demand for mobile wallets is a remunerative one, with investors ready to invest money.
As e-commerce continues its rapid growth in Asia, mobile wallets have become one of the most preferred ways to pay online. Most of these wallets comprise multiple payment methods, from bank transfers to credit cards, debit cards, gift cards, and more.
According to the National Cyber Security Coordinator in the PMO, Mr. Gulshan Rai, mobile wallet transactions in India have increased 40 times in the last five years, and each service provider is targeting India market for its services.
Mr. Rai also said that online transaction in India was growing 1.5 times faster than the global average.
It is because the digital transaction in India is the first and the favorite choice of youths in India, and they are helping mobile wallet companies to set up an active market in India.
So by following all the theories mentioned above, it is very much believed that market of mobile wallet in India is at its peak after the demonetization which is helping Indian economy and the mindset of Indian society in terms of digital transaction and mobile wallet.
Conclusion
Technologies around the world have been developed only to solve our problems. And the mobile wallet is one of them.
Adopting new trends without forgetting the old ones is the perfect way to balance your life in the world of technology. We have to put some efforts to support these new technologies, but at the same time, we have to judge the pros and cons of these technologies to avoid future difficulties.
Mobile wallet considered as the easiest possible way to make financial transaction anywhere around the world, and the reality is that mobile wallet also contributes to the betterment of society in many ways.
As we discussed earlier, that every technology has its advantages and disadvantages, so we have to make a perfect balance between these two aspects.
We can not refuse any mobile apps or any other technology based on their disadvantages, as we have to understand all the aspects of a particular technology.
Mobile wallets in India are looking to target the year 2019 to set up some new and unbelievable records by helping us to perform a safe and secure digital transaction.
Keep your trust on mobile wallets, and you will surely realize that 2019 is a year of Mobile wallets in India.
As mobile wallet plays a vital role, Roamsoft introduces a digital wallet platform "R Pay" with customer app, merchant app, end- to- end admin panel. If you want to possess your own digital wallet solution then R Pay is the right choice.
source: https://magnetoitsolutions.com/blog/year-of-mobile-wallets-in-india