The 2017 Mastercard Digital Payments Study showed that Asia Pacific is the world leader when it comes to digital wallet payments, with about 83% of APAC conversations, pegged against 75% of overall global conversations.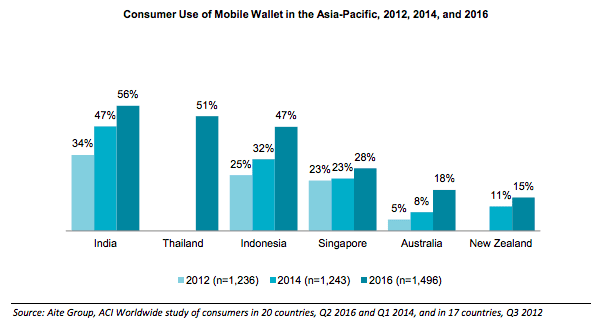 And it's just the beginning.
According to WorldPay's recent report, credit card payments are expected to drop from 30% to 10% of ecommerce transactions in APAC, while e-wallets are predicted to over 51% of the ecommerce market by 2021.
While there are significant variations in how consumers in different Asian markets prefer to pay, a constant is that they are shifting away from more traditional options like credit and debit cards, and instead choosing e-wallets, bank transfers and cash on delivery.Phil Pomford, general manager for Asia Pacific, Worldpay
China:
China, the current largest ecommerce market in the world and also conducts 11 times more mobile payments compared to the US, is also the market leader of e-wallets in APAC (about 60% of transactions in China are made via e-wallets). The digital wallet market is predominantly binary with WeChat Pay and Alipay fighting for market share, with other e-wallets like Apple Pay, Xiaomi Pay, and Huawei Pay trailing behind. Thanks to the growing Chinese tourists, merchants linked to tourism in Europe and the US are also increasingly accepting payments via WeChat Pay and Alipay.

India:
India is the next biggest digital wallet market, which is also the fastest growing ecommerce market in the world ($816 billion in sales in 2016 alone). The country's mobile wallet market is predicted to hit $4.4 billion by 2022, with a CAGR of about 148% during 2017-2022. The government has been actively promoting a cashless society by introducing its own set of payment methods like Aadhar cards in combination with Rupay cards. Paytm is the market leader with about 320 million registered users, 1 billion transactions a quarter, and 9.9% of the market share. PayPal comes second with 9.8%, followed by local e-wallets MobiKwik and FreeCharge with about 2.8% and 2.7% respectively. International players like Google, Samsung, WhatsApp, and Amazon have also begun tapping the Indian market with Tez, Samsung Pay, WhatsApp Pay, and Amazon Pay respectively.
Australia:
Australia currently comes fourth in terms of cashless transactions per capita, and yet cash still remains as the primary payment method. Apple Pay is the most popular digital wallet, with Samsung Pay and Android Pay also having a considerable market share.
Japan:
Even though the concept of payment consolidation has existed in Japan for more than a decade, using a technology called "Osaifu-Keitai" (which means "mobile wallet"), only 20% of the country's payments are cashless. The main reason that has been holding back Japanese consumers appears to be the trust placed on their cash and the lack of it on "invisible" payments. Yet, smartphones are gaining a growing acceptance in the country, with Apple Pay, Line Pay, and Rakuten's Edy being accepted by most stores across the country, and Alipay is also set to be launched this year. Adding to that, Japanese companies Mizuho Financial Group Inc. and Mizuho Bank Ltd. are currently testing out the concept of a mobile wallet called Pring.
Singapore:
According to Worldpay, by 2021, the market share of e-wallets are expected to shoot up from 13% (from 2017) to 21% in Singapore. It's also the first Southeast Asian market for Samsung Pay, the second market in Asia to get Apple Pay, and the third market globally for Android Pay. Popular local e-wallets include DBS PayLah!, Singtel's Dash, and Liquid Pay. In 2017, the Association of Banks in Singapore also launched a service called PayNow, that facilitates monetary transactions between the seven participating banks by just using the users' mobile phone numbers.
Russia:
The Russian ecommerce industry is still in the infant stage, and a majority of the consumers still prefer cash payments. As of 2016, local e-wallets have been earning the trust of more and more Russians, the most popular of which are Yandex.Money, VISA Qiwi Wallet, and Webmoney. International players like MasterPass (launched in 2014) and PayPal (launched in 2013) also sport a healthy market share. In terms of ecommerce transaction value, digital wallets have increased from 25.5% in 2012 to 26.7% in 2016. This increase in adoption has also made global players like Apple Pay, Android Pay, and Samsung Pay enter the Russian market between 2016 and 2017.
E-wallets – the road ahead:
When Google launched its wallet in 2011, its system would work only if the users had the right device with NFC chips, the right Android OS, and a Sprint data plan. What more, the users also needed to have a card that was meant for the mobile wallet, from one of the few participating issuers. Back then, only a few users could meet all the criteria and so it didn't hit the growth pedal (they dropped the NFC from the wallet in 2015 and offered the technology only via Android Pay).
When Softcard came up with its NFC-enabled Isis wallet, customers were quite satisfied with swiping their cards at physical stores. They were, in fact, not familiar with the wallet platform and considered it to be a time-consuming option. In essence, they just wanted to replace the swipe with a more tedious and slower checkout process.
While their competitors like Apple Pay, Android Pay, and Samsung Pay offered fingerprint based native mobile experiences, CurrentC remained stuck to QR code scanning, which was not only outdated but also posed security threats, where anyone could authenticate payments by just stealing the device. In 2015, some MCX members like Rite Aid and Best Buy began accepting Apple Pay, thus further weakening CurrentC's scope. CurrentC also failed to meet the growing trend of retailers coming up with their own closed-loop wallets with specific benefits for their customers (case in point, the wallet later launched by another member of MCX, Walmart). Adding to this, while the aforementioned alternatives were backed by international financial institutions and saw a global reach, CurrentC's scope was limited to the American retailers.
To sum up, if we look at the successes of the successful mobile wallets, three factors play a major role:
Access
Interoperability
Sustainability
According to Gartner, offline usage of digital wallets is still underdeveloped (primarily because consumers still haven't spotted their value compared to card and cash payments), and hence most of the transactions are from online transactions (specifically mcommerce).
Digital wallet providers are increasingly focusing on removing the existing pain-points from the buying process, and the emphasis is shifting from boosting the adoption of technology (NFC and QR codes) to improving the customer experience (one-touch payments, facial recognition, easy API integration, etc).
All these new experiments will keep pushing digital wallets in the right direction, until they figure out just the right blend of value for both customers and merchants, and reach the Plateau of Productivity.
__
What are the different types of e-wallets? What do you have to do to accept payments via a digital wallet? We'll be looking at them in detail in the next post.
As mobile wallet plays a vital role, Roamsoft introduces a digital wallet platform "R Pay" with customer app, merchant app, end- to- end admin panel. If you want to possess your own digital wallet solution then R Pay is the right choice.
Read More : https://www.chargebee.com/blog/online-mobile-wallets-payment-options-usa-europe-asia/