2015 appears to be the peak-year for European e-wallets, with 9 launches. The graph has since gradually reduced, with 5 new e-wallets launched in 2016, and 5 other e-wallets in 2017.
According to the World Payments Report 2017, mobile wallet transactions are expected to grow at a compound annual growth rate (CAGR) of 61.8% during 2016 – 2021.
The E-shopper Barometer 2017 seconds it: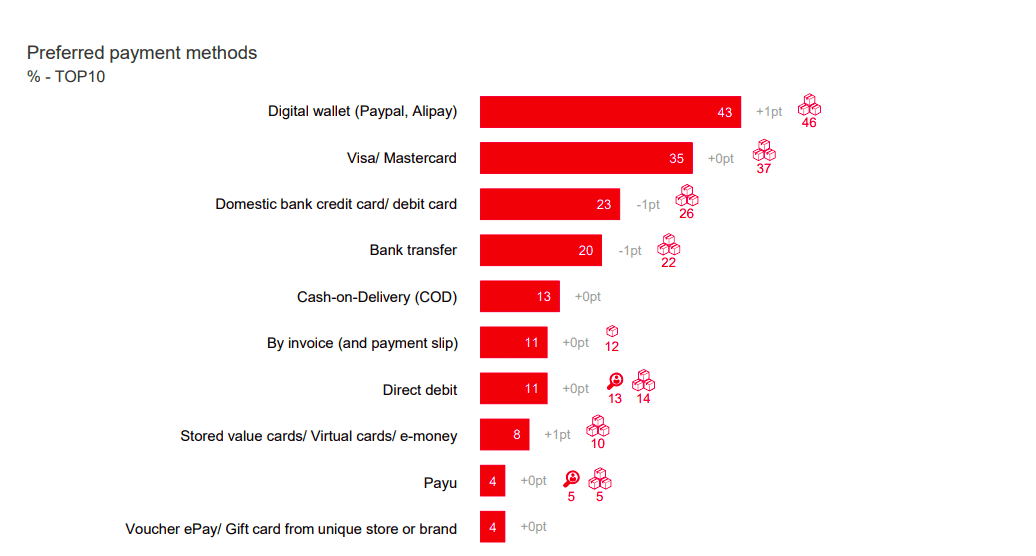 However, if we drill down, digital wallets aren't the most popular payment method in all European countries: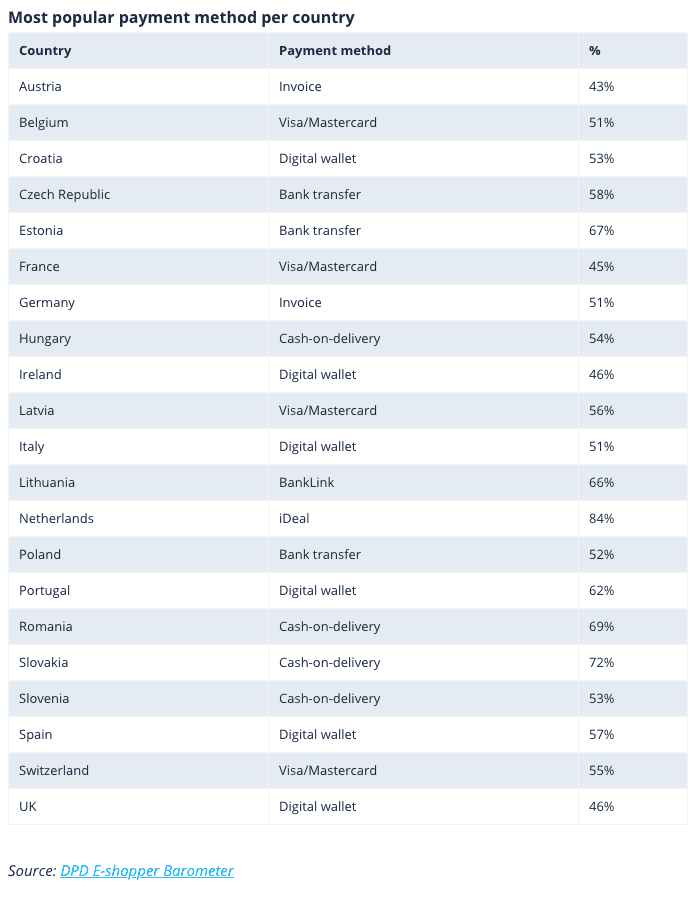 A research conducted by Mobey Forum's Digital Wallet Working Group showed that as of April 2017, 49 e-wallets have been identified in the European market, out of which 26 are operated by banks, while the remaining 23 are from non-bank players.
A common theme that has been identified across Europe is:
The successful proliferation of bank-led digital wallets meant for specific domestic markets – like BKM Express (Turkey), iDEAL (Netherlands), Vipps (Norway), Swish (Sweden), and MobilePay (Denmark)
Non-bank-led digital wallets thriving across multiple markets – with Neteller and Skrill on the top, where both are spread across 8 markets, and are focused on online gambling and gaming. The other popular non-bank-led wallets are PayPal and Seqr (operating in 7 markets each), MasterPass (active in 6 markets), and Amazon Pay and Vodafone's wallet (each with 5 markets).
Many go for partnerships to widen their range, like Seqr partnering with MasterPass to create the "first digital wallet for shopping in all channels across multiple markets," and the French e-wallet Lyf Pay that has been created by four banks and three merchants.
Global players also seem to be growing in popularity in the European soil, with PayPal leading the pack and other players like Apple Pay, Samsung Pay, Alipay, and Android Pay expanding across countries.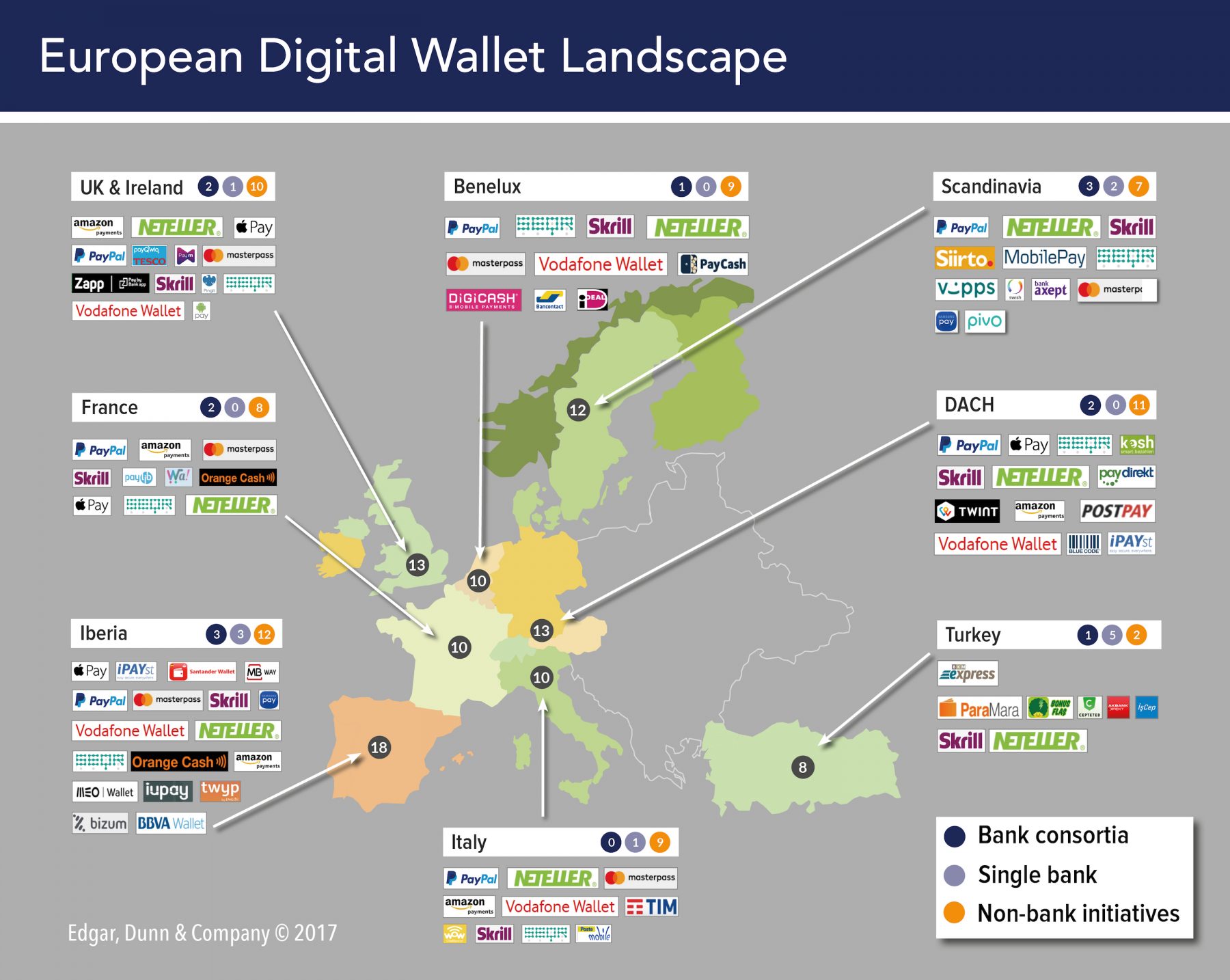 The UK:
The UK has been the European landing ground for global e-wallets like Apple Pay, Samsung Pay, and Android Pay. Local e-wallets like Yoyo Wallet and Pay by Bank App are also giving a tough fight to the global players. Yoyo Wallet is used by about 400,000 consumers and 1700 merchants in the UK and Ireland. The Pay by Bank App was created by 4 of the biggest banks in the UK (Barclays, Halifax, Bank of Scotland, and Lloyds Bank) in 2016, and is limited to the customers of those banks.
Scandinavia:
The Scandinavians use mobile apps to pay for about a quarter of all retail transactions, with e-wallets dominating the market – MobilePay in Denmark, Swish in Sweden, and PayPal and Vipps in Norway.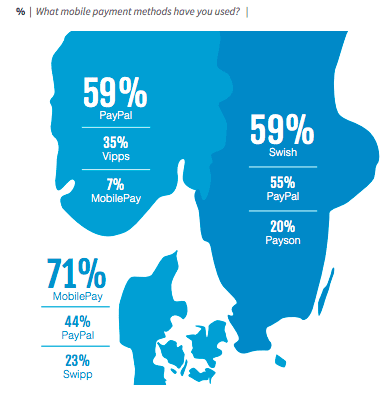 France:
While French consumers prefer card payments, e-wallets have become increasingly popular in the recent years. While the popularity of e-wallets is expected to increase slightly from their 2017 figure of 21.8% to 22.7% over the next five years, credit and debit cards are expected to fall from 16% and 15% respectively to 10% each. Paylib (launched by the major French banks) is the most popular wallet in France, with about 40 million users, compared to the 7 million PayPal users. As mentioned earlier, two e-wallets Wa! And Fivory merged in 2016 to create Lyf Pay, (which also brought together BNP Paribas, Carrefour, Crédit Mutuel, Auchan, Mastercard, Oney and Total) a universal wallet that covers a broad set of needs of its French customers.
Germany:
Even though internet banking solutions like ELV, SOFORT, and Giropay rule the German market (not to forget the failure of Otto Group's Yapital in 2015), e-wallets are projected to surpass them as the most popular payment method by 2021. The Global Payments Report by Worldpay indicates that by 2021, bank transfers and e-wallets will own 23% and 23.9% of the German market respectively. Apart from PayPal, American Express's PAYBACK seems to be a hit among German consumers, with around 30 million active users.
The Netherlands:
The online banking solution iDEAL leads the Netherlands market with a whopping 57% share, and cards are preferred by consumers from Belgium and Luxembourg. However, PayPal is growing its roots in the Benelux market, and so is Payconiq, a local e-wallet founded by the six major Dutch banks – ABN Amro, ASN Bank, ING, Rabobank, Regiobank, and SNS in 2017.
As mobile wallet plays a vital role, Roamsoft introduces a digital wallet platform "R Pay" with customer app, merchant app, end- to- end admin panel. If you want to possess your own digital wallet solution then R Pay is the right choice.
Read more: https://www.chargebee.com/blog/online-mobile-wallets-payment-options-usa-europe-asia/