E-wallets – What are they?
E-wallets/Digital wallets are the online counterparts of your physical wallets, where you can store credentials — both payment-related (card details, bank account details, etc), as well as non-payment-related (tickets, loyalty cards, etc) — that will enable you to carry out online and/or offline transactions. While open e-wallets support different payment methods and can be accepted by any merchant (eg., PayPal, Apple Pay, etc.), closed e-wallets are meant for a specific payment method and can be used only by specific merchants (eg., Walmart Pay, Starbucks Card, etc.)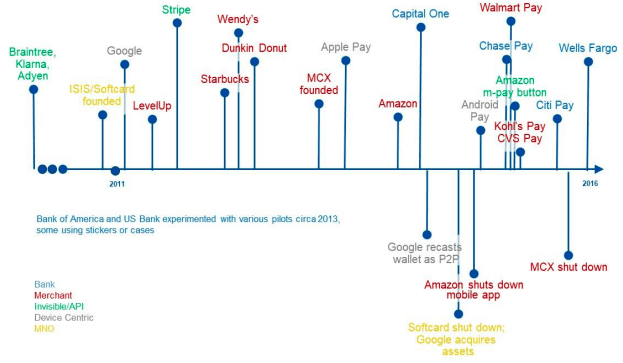 It all started in 2007, where the then-startups like Klarna, Adyen, and Braintree were founded, to enable in-app payments, bring down friction, and enhance customer experience. (PayPal was launched as early as 1998, so we're skipping it in this timeline).
Softcard (ISIS) was launched by the telco trifecta AT&T, Verizon, and T-Mobile in 2010. They brought about the Near Field Communication (NFC) wallet, where the mobile network operators (MNOs) securely stored the payment credentials. Stripe also debuted around the same time, which made online payment processing that much simpler and faster.
2011 and 2012 were predominantly the age of merchant wallets, with businesses like Starbucks, Wendy's, and Dunkin' Donuts coming up with their individual wallets.
2012 also saw the creation the Merchant Customer Exchange (MCX) consortium of the largest retail companies in the US.They would go on to soft launch the multi-merchant mobile payment system, CurrentC in 2015.
Apple Pay set sail in 2014. Even though the Google Wallet was announced in 2011, they later made the wallet a peer-to-peer payment service, and acquired Softcard in 2015 resulting in the new Apple Pay competitor, Android Pay.
During the 2015-2016 trough era, apart from MCX postponing the rollout of CurrentC indefinitely, Softcard also shut down and sold its assets to Google. Amazon also closed their Wallet that was launched in mid-2014 (which could only store loyalty and gift cards, and not credit cards). A lot of bank-centric wallets were also introduced around 2015, including Capital One, Chase Pay, and Wells Fargo. MCX eventually shut down in 2016, whose technology was later bought by JP Morgan Chase to be used in its Chase Pay.
Even though cards have consistently ruled the US online payment industry, with a considerable population opting for ACH payment network transfers, e-wallets are slowly catching up as well (more emphasis on the word "slowly").
A survey conducted by Experian discovered that about 55% consumers still prefer to pay using their credit cards because of "safety concerns." According to another survey by American Bankers Association, even though 25% have made a payment using a mobile app, only 12% trust alternative payment providers to secure their payments.
The technology gets better and better every day. It's not the technology that's the problem, it's the people that are not using the technology properly.Michael Bruemmer, Vice President of Consumer Protection at Experian
However, the future of digital wallets does look hopeful in the US payments space. According to a 2017 report by Forrester Consulting for JPMorgan Chase, US merchants and consumers alike believe that digital wallet adoption will grow in the future. About 41% of consumers said that they will likely sign up for an e-wallet in the next 12 months, while 55% of merchants said that they will likely accept e-wallet payments in the next 12 months.
About 67% merchants also opine that most transactions will happen through e-wallets within the next five years.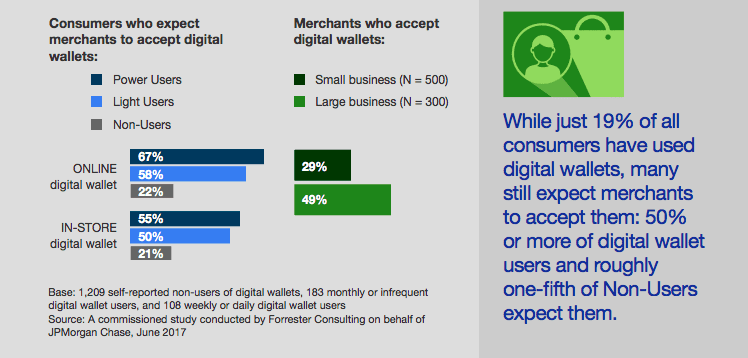 With their growing popularity, new players keep flocking the US digital wallet scene every year. And in spite of that, PayPal, Apple Pay, and Android Pay dominate the market.
In the Mobile Payments & Fraud: 2017 Report, PayPal leads the pack with about 58% merchants supporting it in 2017, followed by Apple Pay at 48% and Android Pay at 38%.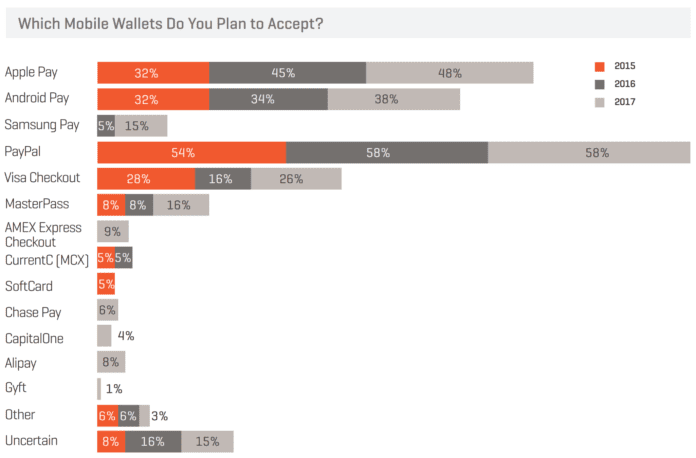 However, about 39% merchants said that they intend to support Apple Pay in 2018, which will push it to the top of the line with an impressive 87% (with PayPal coming second with about 83% support and Android Pay at the third position with 78%). In general, the support by merchants is expected to increase for almost all the major players in 2018.
As mobile wallet plays a vital role, Roamsoft introduces a digital wallet platform "R Pay" with customer app, merchant app, end- to- end admin panel. If you want to possess your own digital wallet solution then R Pay is the right choice.
Read More: https://www.chargebee.com/blog/online-mobile-wallets-payment-options-usa-europe-asia/