After some revolutionary steps like demonetization taken by Government of India, the mobile wallet is now a reality in India.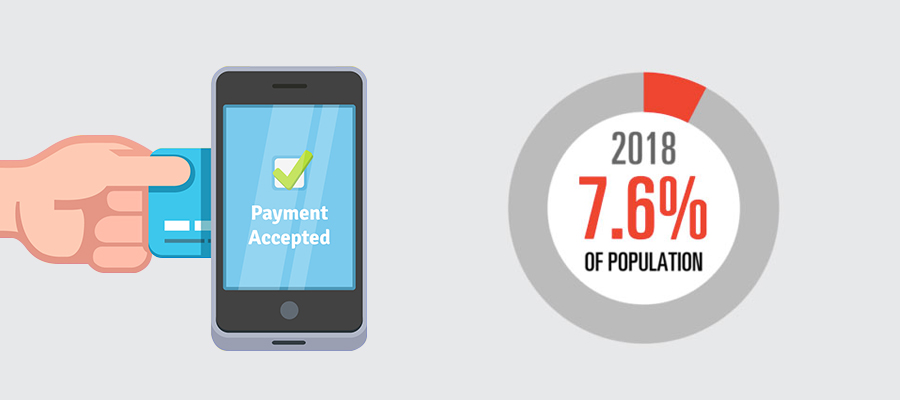 As we all know, the use of smartphones is increasing exponentially in India, and this increase is directly helping the mobile wallets system to get some great existence.
According to eMarketer, India has 337 million active smartphone users until November 2018.
Now, according to Cisco, by 2022, there will be 829 million smartphone users in India, which will be 60% of the total population.
With so many people using smartphones in India, the use of mobile wallets are also increasing day by day.
According to the report released by eMarketer over the total number of smartphone users in India in 2018, India had 73.9 million people using mobile wallets.
Mobile Wallets: Advantages and Disadvantages
All the technologies in this high profile world have its advantages and disadvantages, no matter how superior that technology is.
Similarly, Mobile Wallets also has its advantages and disadvantages.
Let's have a brief look in these areas.
Advantages:
1) Easy accessibility: Using a mobile wallet for day to day transactions is straightforward. All you need to do is downloading the app and creating a user ID and password. And the best part of the mobile wallet is that you can use it anytime, anywhere if your internet connection allows you to do so.
2) Security: By using a mobile wallet, users no longer have to presume the security dangers related to cash or worry whether they have enough money in their bulky physical wallets so that mobile payments decrease theft risks of having cash on hand. Moreover, mobile payment is a secure way to make payment.
3) A range of uses: Mobile Wallet is an all-rounder player just like Kapil Dev. Yes, you heard it right. Starting from bill payments for DTH, postpaid, data card to buy air and train ticket, from online shopping to ordering Pizza, Mobile Wallets can be used each and everywhere in the digital world.
4) Discount and Cashback Offers: Mobile wallets and Payment gateways like PayTM and Google Pay offer various kinds of cashback offers and discounts in every digital transaction, and it helps you to enjoy many incentives, freebies, and discounts. The government also have announced a list of excuses for going cashless.
Disadvantages:
1) Not always accepted: Mobile payments, especially in the country like India, is not still accepted everywhere. Even in the metropolitan cities like Mumbai, some shopkeepers don't have faith in the mobile wallets.
2) Internet Connection: As all mobile wallets works on the internet, internet connection is one of the significant problems in the country like India where it's tough to get fast internet connection in most of the country.
3) Supported by certain phones: Mobile wallets do not support all the phones, and that is why it's tough to use mobile wallets in such kind of phones.
4) Payments are bind to your phone: If your phone is lost or stolen or even if the battery dies, you are out of luck because you can't make payments.
Importance of Mobile Wallet in 2019
In India, Mobile wallets are becoming favorite day by day. And people are making a great habit of using mobile wallets in there daily life.
However, India still has to cover a significant distance to achieve the target of Cashless India.
Nowadays, many mobile applications like PayTM, Mobikwik, PayPal, PhonePe, Google Pay have been developed to give massive support to the cashless transaction.
Several new online games like LOCO and MPL have been started, which allows us to win the game and money as well. And then we can transfer that money in our mobile wallet.
But still, 2019 will be crucial for India because many more new technologies will be added to attract users with some joyful cashback offers.
Many cities in India are remaining to adopt mobile wallets, and 2019 will be the year for those cities.
Various Mobile Application Development Companies are also developing on-demand apps for mobile wallets.
Apart from mobile wallets, various other apps and technologies will be in the discussion in 2019, but still, mobile wallets will remain on top in India.
As mobile wallet plays a vital role, Roamsoft introduces a digital wallet platform "R Pay" with customer app, merchant app, end- to- end admin panel. If you want to possess your own digital wallet solution then R Pay is the right choice.
Source: https://magnetoitsolutions.com/blog/year-of-mobile-wallets-in-india